December 31, 2007
Best of ExplorersWeb 2007 Awards: Jason Lewis, world circumnavigation
Expedition 360 has been selected by Explorers Web as one of their Best of 2007 Awards.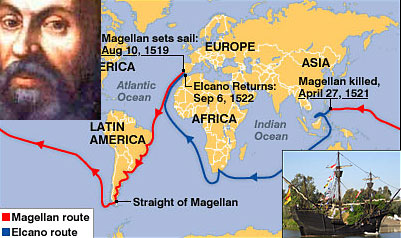 In 1519 Portuguese explorer Ferdinand Magellan set out on an ocean voyage with 5 ships and a crew of 270 men.
Click here for the full story.
To become a part of the international adventure community, check into The Pioneers Checkpoint.
For the all the communications equipment you need for your next expedition, visit Explorers Web.
Posted at 6:48 AM
December 16, 2007
Completion Shirts now on offer!
A selection of commemorative shirts to celebrate the completion of Expedition 360 are now available through the website. The design marks the final route around the world from Greenwich, through the two antipodal points on the Atlantic and western Australia, and back to Greenwich again.
You can choose from three styles: a hoody, long-sleeve sweat or just a short-sleeve t-shirt. A range of different colours are also available.
This is the last in a total of seven designs that were printed over the years to raise funds to keep the expedition going in the absence of formal sponsorship. The original, as seen here worn by Steve and I at the Earl's Court Boat Show in January 1994, is printed with the hopelessly optimistic dates of 1994-1996! This final design gives the real tally of 13-years.
Visit the store on the expedition website to find out more. Please note that only 200 pieces have been printed as a limited edition series. Order now while they're available!
Jason
Posted at 6:37 PM
December 6, 2007
Support for Lee's bike ride to Barcelona
Some of you present at the completion of Expedition 360 at Greenwich almost two months ago now might have run into one of the central figures who worked tirelessly to ensure the day ran smoothly: the overall event manager Lee Reynolds.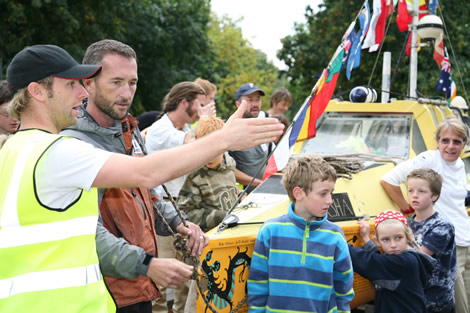 On 5th April 2008 Lee Reynolds and his friends Rich Prowting and Michael Stoner will set out by bike from Southampton FC's stadium - St Mary's - and aim to reach the Nou Camp in Barcelona within two weeks.
As well as doing it for the adventure, they will be raising money for the cystic fibrosis trust.
Click here if you'd like to help!
Posted at 11:25 PM