December 31, 2007
Best of ExplorersWeb 2007 Awards: Jason Lewis, world circumnavigation
Expedition 360 has been selected by Explorers Web as one of their Best of 2007 Awards.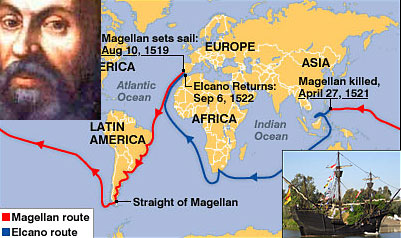 In 1519 Portuguese explorer Ferdinand Magellan set out on an ocean voyage with 5 ships and a crew of 270 men.
Click here for the full story.
To become a part of the international adventure community, check into The Pioneers Checkpoint.
For the all the communications equipment you need for your next expedition, visit Explorers Web.
Posted at 6:48 AM
December 16, 2007
Completion Shirts now on offer!
A selection of commemorative shirts to celebrate the completion of Expedition 360 are now available through the website. The design marks the final route around the world from Greenwich, through the two antipodal points on the Atlantic and western Australia, and back to Greenwich again.
You can choose from three styles: a hoody, long-sleeve sweat or just a short-sleeve t-shirt. A range of different colours are also available.
This is the last in a total of seven designs that were printed over the years to raise funds to keep the expedition going in the absence of formal sponsorship. The original, as seen here worn by Steve and I at the Earl's Court Boat Show in January 1994, is printed with the hopelessly optimistic dates of 1994-1996! This final design gives the real tally of 13-years.
Visit the store on the expedition website to find out more. Please note that only 200 pieces have been printed as a limited edition series. Order now while they're available!
Jason
Posted at 6:37 PM
December 6, 2007
Support for Lee's bike ride to Barcelona
Some of you present at the completion of Expedition 360 at Greenwich almost two months ago now might have run into one of the central figures who worked tirelessly to ensure the day ran smoothly: the overall event manager Lee Reynolds.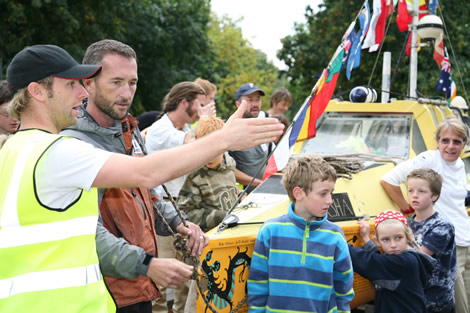 On 5th April 2008 Lee Reynolds and his friends Rich Prowting and Michael Stoner will set out by bike from Southampton FC's stadium - St Mary's - and aim to reach the Nou Camp in Barcelona within two weeks.
As well as doing it for the adventure, they will be raising money for the cystic fibrosis trust.
Click here if you'd like to help!
Posted at 11:25 PM
November 29, 2007
Moksha on display at Earl's Court Boat Show
Moksha is being exhibited as one of the highlights of the 'Hall of Fame' display at the Earl's Court Boat Show from this Saturday the 1st December through the 9th. The display is being sponsored by Yachting World in association by the National Maritime Museum.
Round the world sailing pioneers like Sir Francis Chichester, Sir Robin Knox-Johnston, and Sir Chay Blyth are also being featured.
The Expedition 360 display will feature some of the other equipment and modes of propulsion that were used to circumnavigation using only human power: kayaks, rollerblades and an overland component comprising the bike and camping equipment.
Another reason to come along and visit the display is meeting Steve's father Stuart who has kindly offered to man the exhibit and answer any questions that aren't explained by the information boards and multimedia kiosk. He's knows the stories and tells them better than any of us, so you won't be disappointed! There will also be a limited supply of special edition signed T-shirts for sale.
More information about the show can be found here. We look forward to seeing you there!
Posted at 11:13 AM
November 21, 2007
The Sustrans Big Lottery bid - your vote needed!
Another impression from being away for 13-years is how backward the UK is compared to many other countries around the world in terms of providing sustainable transport alternatives for people - bicycle paths and lanes in particular. For poorer countries like India and China bicycles are the preferred method of travel mainly for economic reasons (people would start using a car in a heartbeat if they could afford one). But travelling through continental Europe - Germany, Austria and Belgium in particular, countries at least on a par with the UK economically - I was struck how advanced they are with the whole process of providing safe environments for cyclists and walkers to travel adjacent to established roads and thoroughfares both in the towns and the countryside. Sometimes almost to the point of irritation in terms of how prescriptive they were.
Sustrans is one organization that is actively working towards sustainable transport solutions for the UK however. As the UK's leading sustainable transport charity its vision is a world in which people choose to travel in ways that benefit their health and the environment. Their Connect2 initiative is currently shortlisted with three other contenders for 50 million pounds of Big Lottery money that, if they win, will go towards creating 79 bicycle paths, bridges and walkways nationwide. I was invited yesterday to help promote their initiatives in Devon and Dorset which include a 1.8km traffic-free route in Newton Abbot and plans to construct a bridge over the River Otter in Ottery St. Mary, to create a safe, traffic free pathway away from the busy main road. You can find out more details on their Big Lottery bid here. For residents of the UK please consider giving them your vote starting the 26th of this month. To me it's a win-win situation; riding a bike whenever possible means carbon neutral travel, saving money and keeping fit. And while the other three contenders are certainly worthy causes, the Sustrans Connect2 bid is the only one that will directly affect local communities nationwide.
jason
Posted at 7:34 AM
November 16, 2007
Back into Society
Its over a month ago that I re-crossed the Meridian Line at Greenwich along with Moksha and the other members and close supporters of Expedition 360. Having been riding towards this exact moment in time - 12pm on October 6th 2007 - for so many months coming up through Africa, the Middle East and Europe, it was predictably a very emotional moment. For so many years I'd been pushing myself on with the adage that it is the journey, not the destination, that is important. But I cannot deny that at the end of it all the destination was just as important too. After all, how can one have a journey without there being a destination? It would be impossible to have one without the other.
The first three weeks following the circumnavigation completion were a blur: back to back interviews by media to the point of losing my voice and nearly my mind. In amongst this frenzied activity I was trying to spend time with as many of the expedition family as possible, many of whom had traveled a great distance and gone to considerable expense to be there at the finish. The completion party at the Trafalgar Rowing Club was quite small and modest considering the scale of effort by so many over so many years. There were only a hundred there to celebrate. But I knew that never again in my lifetime would I get to share the same room with such an incredible bunch of absolutely top rate human beings. For me it was definitely the high point of the entire expedition.
Since then the media interest has thankfully waned, replaced by meetings with publishers, broadcasters and others interested in exploiting the story. I've always joked that at the end of X360 I'd be as broke as when I started, with little to show for it except a bunch of good stories, and that's pretty much the way it's turned out. But what's interesting is that there does seem to be value in these stories that I didn't fully appreciate until just recently. So if I play my cards right I might not have to go back to cleaning windows after all!
One of the most common questions I've been asked is how I will adapt back to a life without the expedition. Well, the truth is that aside from the physical traveling, not much else has changed. I'm still talking about it, writing about it, thinking about it 24/7. The monster still needs feeding and its appetite is growing if anything, rather than subsiding. So unless I do want to go back to cleaning windows it seems like I'll be living with the expedition for a while yet to come.
Adapting back to living in London has been a struggle though. The culture shock of transitioning from a largely freeform existence traveling through largely freeform countries and environments, where few rules exist that can't be circumvented either by greasing palms or shouting a lot, has been quite severe. In short I am not enjoying being back in the UK. Everyone complains about the cost of living, stealth taxes, CCTV cameras, loss of personal rights and an insidious bureaucracy gradually creeping into every aspect of their lives. Having been away for 13-years I can see it clearer than anyone. It's actually terrifying, and part of me wants to run screaming in the opposite direction as far as my world weary legs will carry me. And then there's the media. Oh Boy! How much more narcissistic, utterly base, pointless, navel gazing drivel can they cram on the box before people become completely disconnected from ANYTHING that is actually worth filling their heads with? So many lies, distortions, sensationalism, half-truths, non-truths, all for the sake of attracting more eyeballs and better serving the interests of greedy advertisers just so they can put more crap on the shelves that people don't actually need. So many hours of the average person's day already appears to be dedicated to earning money just to pay bills. As part of this new found awareness that people have of climate change and carbon footprints you'd think we'd be looking at ways of buying less stuff, rather than more, so we can spend less time working and more time at home with our children or doing exercise to keep healthy, or just sitting in a corner reading a book. Clearly a change in mainstream society's value system is desperately needed. But how to engineer this when materialism and obsession with money is so ingrained in everyone's thinking from early childhood on?
Admittedly I am the world's biggest hippocratic as far as time management goes considering how much a slave I still am to this project (that is supposedly now 'finished'). The challenge I see for myself from now on is to try and harness the legacy of the last 13-years into something that is interesting and useful for people to read or watch a program about. Recounting a straight adventure story doesn't interest me. Participating in a much needed public debate on how human behaviour might be adapted over the next 50 years to better serve the interests of a sustainable planet with people helping each other rather than exploiting and killing each other (as is our historic precedent) does. And if there's any conclusion that I can draw after traveling the world these past 13-years it is that education is where its at. That's the direction I need to channel my efforts from now on.
jason
Read a recent ESPN article

Posted at 2:57 AM
October 21, 2007
Memories of Greenwich - by Nancy Sanford
This journal entry comes quite late because it took me time to recover from my adventure in the UK and the Greenwich events to celebrate Jason's completion of the expedition. It was a great time. It was in fact, incredible. Below are some of my memories. Nancy Sanford
-----------------
My experience started with chasing the team that had left Belgium for Dover via Calais following Jason's unexpected early departure to cross the channel during a weather window. I arrived in Brussels from the US and after 3 trains, a ferry and a taxi ride later with what I later called 'the grey beast' of a wheeled suitcase, I was standing alone on a windy, cold pier in Dover at dusk with the cliffs looming ghostly behind me. I was feeling pretty lonely and very tired. But no amount of jet lag would beat me. Cell phone input couldn't confirm it but I was sure Jason was coming. I waited and waited. It got dark. I waited. And then I gave up. I took one last look out toward the distant harbor entrance before heading back the half mile walk to the dock. But wait! There, at the far edge of the harbor entrance, were two tiny red and green lights winking close to the water and next to them, higher up, lights of another boat. It had to be them- Moksha and the chaperone boat.
I went from sad sack to ballistic in seconds. I began a mantra of 'Just keep coming Jason, just keep coming'. After a lunatic performance of waving a white scarf that Jason later said he never saw, they came closer finally. I yelled 'hello' from the pier and began to run back like a maniac to the dock where I met up with the others –most of whom I hadn't seen in years and others I met for the first time but certainly knew from journal entries. I hugged them all and Jason too and then asked permission to board Moksha whom I'd not seen since Hawaii.
Jason invited me to pedal 'Moksha' with him from Gravesend to Erith, about 10 miles, on the eastern end of the Thames on Thursday Oct 4th. It was a beautiful day with a beautiful sunset -and a wonderful incoming tide. Pedaling Moksha is like pedaling up a moderate hill that never ends. Once you get used to it, it seems reasonable. It's the first 45 minutes that you wonder how they ever got across the Channel in the first place let alone across oceans. The steering was suffering a hang up but it is usually responsive - like turning a bus. Everything you need is within reach of either you or the other guy but you do have to be very mindful of the turning metal pedals that can claw down a misplaced leg. Jason boiled water for tea during our trip and we enjoyed some celebratory chocolate candy at journey's end. I can't thank Jason enough for the chance to pedal some distance in Moksha on the Thames. Jason said he wanted to return the favor.
What he was referring to was that in the summer of 95, during what turned out to be one of the hottest summers in the Southern US on record, Steve Smith and Jason began their way west from Ft. Lauderdale, Florida on the Atlantic coast to San Francisco, California. My 'favor' to them was to get 3 small pedal boats to the east side of Tampa Bay (Florida) for us to get across to St. Petersburg, about 9 miles, where I live. It was shorter distance and less of a hassle than getting there by bike and inline skates but turned out to be slow torture on the windless day under the sun –for 3 hours. I can only hope that neither Steve nor Jason remembers the deplorable heat that day on Tampa Bay.
By far, I got the better deal.
There are some Moksha maneuverings from water to land or land to water that we will remember from this time, but the trickiest by far because it had to happen then and only then with no real alternative with media live and a crowd watching, was her landing at the slipway in Greenwich.
Apart from the media jostling to capture 'the shot' of Jason stepping off Moksha, they call it a slipway for a reason. It's incredible that Jason made it off without damage. However, imagine if you will, standing on slippery cobbles with cold, wet water sloshing around and a 3000 pound boat coming straight at you with only 'Roman rollers' (4 fence posts) to defend her keel against the stones. The rollers must roll her up the slipway ramp to the reach of a crane. We also had to keep her even keeled, as in from rocking to either side potentially squooshing crew on either side backed by narrow concrete walls. Chris Tipper deserves credit for executing the idea that I, prior to Moksha's arrival, merely accepted out of hand as being entirely do-able. Standing there at water's edge, at the moment of her arrival, her bow scraping Greenwich cobbles for the first time, I admit my confidence wavered. But, the fence posts got pushed into place and began to roll. I looked at Moksha as she lumbering toward us, unsteadied by the waves of wakes from nearby media boats and quietly said "Come home", and she did. I know she would have come without my invitation, but she'd been so good for so long it was time for her to just do what she had to do. We just helped. Maybe it wasn't pretty, but it worked.
Now strapped and held 15 feet overhead by a crane, Moksha had to be rotated mid air in close quarters surrounded by media and a crowd in order to be placed on the trolley that would carry her over the Meridian. 'Close quarters' is an understatement. Inches only between the buildings.
My notebook and photo album don't compare to the 'movies' of memories I keep playing over in my head. It's all too big to really put into words. I played a very minor part in the expedition's effort through the years, but know that the mission of the expedition to educate on the environment, promote world citizenship, and to know your dreams and follow them impacted my life forever. I've done things I never would have done without the experience. I think perhaps now I have a soul that is my true home port and is the only way I will ever find my way away.
Thanks, Jason. I really did get the better deal.
Nancy
Pedal power, the pace for the human race.
Posted at 7:21 PM